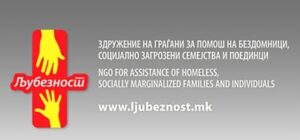 Association of citizens for help and support of the homeless socially endangered families and individuals KINDNESS – SKOPJE
Our association is a non-profit and non-governmental organization operating in the field of social protection. We started as an informal group in 2013, we continued as part of an association that was engaged in several activities, and on January 9, 2015 we formed an independent association called Kindness, exclusively to help people from vulnerable social categories. We work nationally, and visit families in many cities and villages throughout the country. The association started working mostly on a voluntary basis, but today we have full-time employees, occasionally part-time volunteers.
Vision: A society without poverty where there is acceptance, inclusion and equal opportunities for homeless and socially disadvantaged people
In our vision, for example, we take the societies of the welfare states of Western Europe, where there is a system of social protection that almost excludes homelessness and poverty in the sense in which they exist here in Macedonia. We will work with our work to bring this situation to this area, both through strategies aimed at homeless and socially disadvantaged people, and through their advocacy and lobbying to the authorities and other policy makers for such a system of social protection to be introduced. and in our country. This is consistent with the expected process of Macedonia's accession to the European Union.
Mission: Continuing education, assistance and support to the homeless and socially disadvantaged in the process of their resocialization and reintegration.
Our strategic goals are:
1. Poverty reduction. We will achieve this strategic goal by conducting direct visits to the residences of the homeless and the homes of socially disadvantaged families and individuals, identifying their problems, informing and encouraging civic activism to collect donations for these citizens,
2. Reducing unemployment. We will achieve this strategic goal by identifying able-bodied homeless people and socially disadvantaged people who want to be employed and their support to increase competitiveness in the labor market. Additionally, our association in its program activities will directly employ some of the homeless and socially endangered people. We will prepare a program for
social entrepreneurship in order to employ our end users in performing economic activity.
3. Reducing homelessness. We will solve the problem of homelessness with housing programs, providing economical housing with low rents and favorable living conditions for homeless families and the homeless. We will connect individuals and businesses with these people to renovate their homes or build new ones.
4. Improving the condition of the homeless and socially endangered persons. To achieve this goal, Kindness will work on referring, counseling and connecting the homeless and socially disadvantaged and will provide them with psychosocial support.
5. Organizational development of Kindness. Achieving this goal will increase the number of customers we will serve, increase the volume of services and humanitarian aid that we will provide, but also diversify our work, ie we will be able to provide new related services that we do not currently offer to our customers. The growth and development of our organization will contribute to the realization of our vision and mission and other strategic goals of Kindness.
Our end users are the homeless and socially disadvantaged families who live in very difficult living conditions and are in great poverty.